Israel National News, intervista Ashraf Ramelah: Out of Egypt: Election Results a Fraud? Hear All About it!
ESTERI
giovedì, 28, giugno, 2012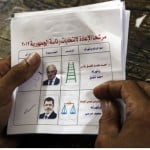 Radio intervista a: Ashraf Ramelah is the Egyptian-born founder and president of Voice of the Copts, a nonprofit human rights organization fighting the spread of Islamic supremacy.
Dr. Ashraf Ramelah, is an ex-patriot Egyptian Christian Copt. "He is dedicated to the Coptic cause and believes that this life's mission is to speak up for the oppressed Copts who cannot speak up for themselves, hence the name, Voice of the Copts." Dr. Ramelah just received a cryptic email from his contacts still in Egypt saying that Egypt's presidential election results were changed …half an hour before the official election results were scheduled to be announced. Why? Many Egyptians believe it was due to US pressure! Can this be true? How do they explain this belief? Dr. Ramelah joins Tamar and explains exactly what is going on in Egypt to give us all a better understanding of the corruption and human rights violations taking place, still today.
Also: 'Dan, the Guy Who Works With Leftists' joins Tamar for a fun talk and examination of the politics and activities of the Left, and other current issues.
Join Tamar as she covers the latest news of Israel, politics and current events!
Tamar Yonah is the daughter of a Holocaust survivor. Her father survived the Nazi brutalities and after liberation, made his way to the shores of the British Palestine Mandate, where again fighting for his survival, fought in Israel's war of Independence. This made a great impression on her life and she too has been fighting for Israel by serving in the Israeli army & air force, and afterwards by becoming an activist for Israel and the Jewish nation. She has been a vocal beacon of light since beginning a prolific career in radio. She hosts The Tamar Yonah Show – Israel's most popular English language radio talk show. She also writes a biting and sometimes humorous, award winning blog that discusses current events, religion and politics.
www.israelnationalnews.com/Blogs/Blog.aspx/3# You can email Tamar at: Tamar@IsraelNationalRadio.com